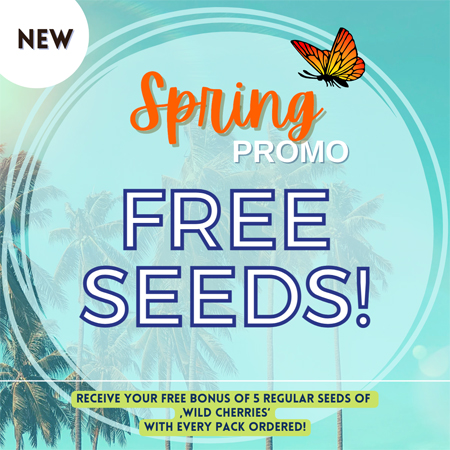 FREE SEEDS:
Our spring PROMO for the beginning of the outdoor season is here:
Receive your FREE BONUS of 5 regular seeds of 'Wild Cherries'
WITH EVERY PACK ORDERED!
She is deliciously fruity and PERFECT FOR OUTDOORS…
Wild Cherries: Genetics: (AK-47 x G13)
'Wild Cherries' is a cross of the legendary multiple award-winning variety 'AK-47' from Serious Seeds with a very unique breeding stud, the infamous 'G-13'. The new cross exhibits the extreme potency of the 'AK-47' and combines it with the robustness and vigor of the 'G-13'. This strain grows tremendously vigorous during veg. and it is recommended to top plants multiple times when grown indoors. The aroma of this strain is VERY fruity and sweet with undertones of cherry-flavor. The yield is VERY HIGH, she delivers huge Sativa-buds with extreme amounts of crystals and is ideal for patients, which need big amounts of medicine with very high THC-content. She is very robust to mold and ideal for Outdoors in Europe.
Genetics: AK-47 x G-13
Veg. time: 2-3 weeks
Flowering time: 9-10 weeks
Yield indoors: appr. 600-800 gr/m2
Outdoor harvest time: beginning to mid October
Yield outdoors: appr. 1000-1200 gr/plant (she grows HUGE!)